Music unites people;
music erases all boundaries;
music engenders goodness.
Eugen Doga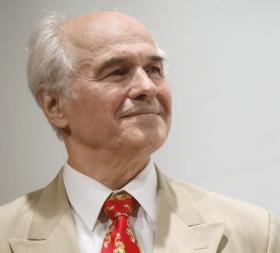 Eugen Doga was born on March 1st, 1937 in the village Mokra (Moldova). He studied cello at a music college in Kishinev. He graduated from the Kishinev Conservatory with a degree in Cello (1960), and Theory and Composition (1965), and also completed a symphonic conducting course.
While workingfor a radio orchestra (1957-1962), he began to actively compose music. In 1967 he wrote his first piece for the film A Porter Wantedat the Moldova-Film studio. He has collaborated with such studios as Mosfilm, Dovzhenko, Moldova-Film, Belarus-Film, as well as studios in Bucharest, Munich, Belgrade, Tashkent, and many others. He has composed music for over 200 films. His soundtracks to action and romantic films are particularly outstanding.
Dogacomposed ballets"Luceafărul", "Queen Margot", a music cycle "Dialogues of Love", over 100 instrumental and choir pieces, 6 quartets, and also music for 13 plays and radio productions, as well as for more than 200 films. He composed hundreds of songs and romances, more than 70 waltzes for different musical instruments, musicals, music for children, etc. The song My White City became the official hymn of Moldova's capital, Kishinev. The song I Had a Dream about the Sound of the Rain was composed thanks to astronaut V. Sevastyanov and became all of the astronauts' favorite.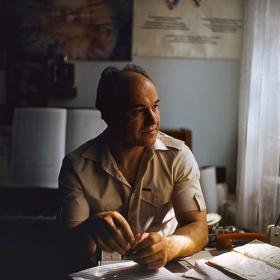 He composed the soundtrack for "Maria, Mirabella" (1st prize in animated film category at the Giffoni International Festival, Italy), films "Valentin and Valentina", "Bless the Woman", and "Dorms for the Single" (23.2 mln viewers), "Black Veil", "Mercedes Escapes the Chase", and others. His collaboration with the director Emil Loteanu was especially prolific: films included "The Lautars" (13.8 mln viewers), "The Gypsy Camp Vanishes into the Blue" (64.9 mln viewers and over 30 international prizes), "Anna Pavlova", "My Sweet and Tender Beast" (26 mln viewers). The waltz from this romantic film became widely famous, a cult classic. It was performed during the Olympic Games opening in Moscow in 1980, the Olympics in Sochi in 2014, and at the UN Headquarters during the FIFA World Cup presentation in 2018.The waltz is often played at sports competitions and other events.
A lot of Eugen Doga's work is dedicated to the poetry of the Romanian classical poet Mihai Eminescu and his muse, poetess Veronica Micle. Dogacomposed over 50 pieces based on their verses.
His style is easily recognizable. He composes music in different ethnic styles: Romanian, Russian, Romani, Latin American, Chinese, Eastern and others. His music stands out due to its melodic and emotional quality, its expressiveness.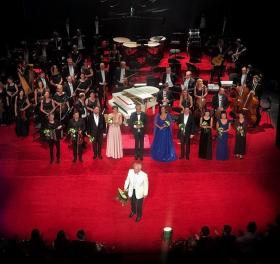 Eugen Doga has actively toured throughout his career. He has given hundreds of concerts in the Soviet Union, Russia, Moldova, Romania; he has hosted music gatherings in Paris, Montreal, Vienne, New York, Lisbon, Brussels, and Poland, Bulgaria, China, Nicaragua, Cuba, Thailand, Serbia, Switzerland, Argentina,and Canada, etc. His concerts have always attracted a huge audience and filled the largest concert halls of Moscow, Leningrad, Kishinev, Kiev, Bucharest and other cities.
People's Artist of the USSR, current member of the Academy of Sciences of Moldova, the Russian Academy of Cinematographic Sciences and Arts, the European Academy of Sciences and Arts (Salzburg), he was awarded the USSR State Prize, as well as Order of the Republic of Moldova, Order of Merit for the Fatherland (Russia), Order of the Republic (Moldova), Steaua României Order(Golden Star of Romania in the degree of Commander), Danaker Order(Kyrgyzstan), Pentru Serviciul Credincios Orderin the degree of Officer (Romania), and Alexander Nevsky Order.He is a two-time winner of the Ovation Award as well as many Soviet, Moldavian, Russian and other awards for outstanding merit in music, cinema, and charity work. Two of Eugen Doga's waltzes entered the top 200 best classical works of all time according to historyrundown.com.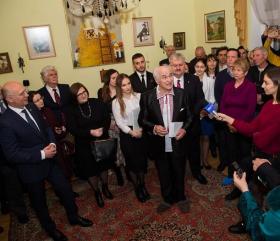 Eugen Dogaleads a rich social life: he participates in different festivals and educational projects, gives lectures to students, and works with children and veterans. Young artists and children often take part in Doga's concerts. He established the Dominanta Foundation in Kishinev, and Eugen Doga Music Salon which are meant to promote international cultural relations and unite creative intellectuals, businessmen, politicians, and art lovers.
He is the subject of nine books, six films and many TV programs. The year 2007 was named 'Eugen Doga Year' in Moldova. He is a venerable citizen of Kishinev, and the cities of Craiova and Dumbraveni in Rumania; a music school is named after him, as well as a pedestrian street in Kishinev and planet #10504 which orbits between Saturn and Mars.